Explore transformative opportunities in the realm of science, research, and education. Unleash your potential and contribute to groundbreaking discoveries and impactful educational initiatives.
Join us in shaping the future of knowledge and fostering positive change as we strive to make a lasting impact
European Space Agency Living Planet Fellowship call for proposals 2023
Opportunities | Posted on:

07 Sept

 

2023
The Living Planet Fellowship is an ESA initiative to support young researchers who have a doctoral degree and would like to initiate a scientific career in the context of Earth Observation and Earth system science. The LPF aims at supporting the new generation of scientists in ESA Member States to undertake cutting-edge research in Earth Observation and Earth System Science, maximise the scientific impact of ESA missions and European EO capacity and respond to the main challenges of the ESA science strategy.
Open call: 28th  August 2023
Submission of Proposals: 28th  August 2023
Communication of Results (tentative): 4th  Quarter 2023
Beginning of Activities (tentative): 1st  Quarter 2024
Any questions relating to this Call must be sent, by e-mail to EOScience@esa.int, not later than two (2) weeks before the Closing Date.
A two-year Postdoctoral Research Associate post at the University of Exeter to support the work of Dr Bob Brewin in a UKRI funded project
Opportunities | Posted on:

07 Sept

 

2023
Job Details:  Postdoctoral Research Associate
Job Reference: P88823, Faculty of Environment, Science and Economy
Application Closing Date: 24/09/2023
Salary: The starting salary will be from £32,982 to £38,205 on Grade E, depending on qualifications and experience.
Trevor Platt Science Foundation Internship on Aquatic Microbiology
Opportunities | Posted on: 07 Sept

2023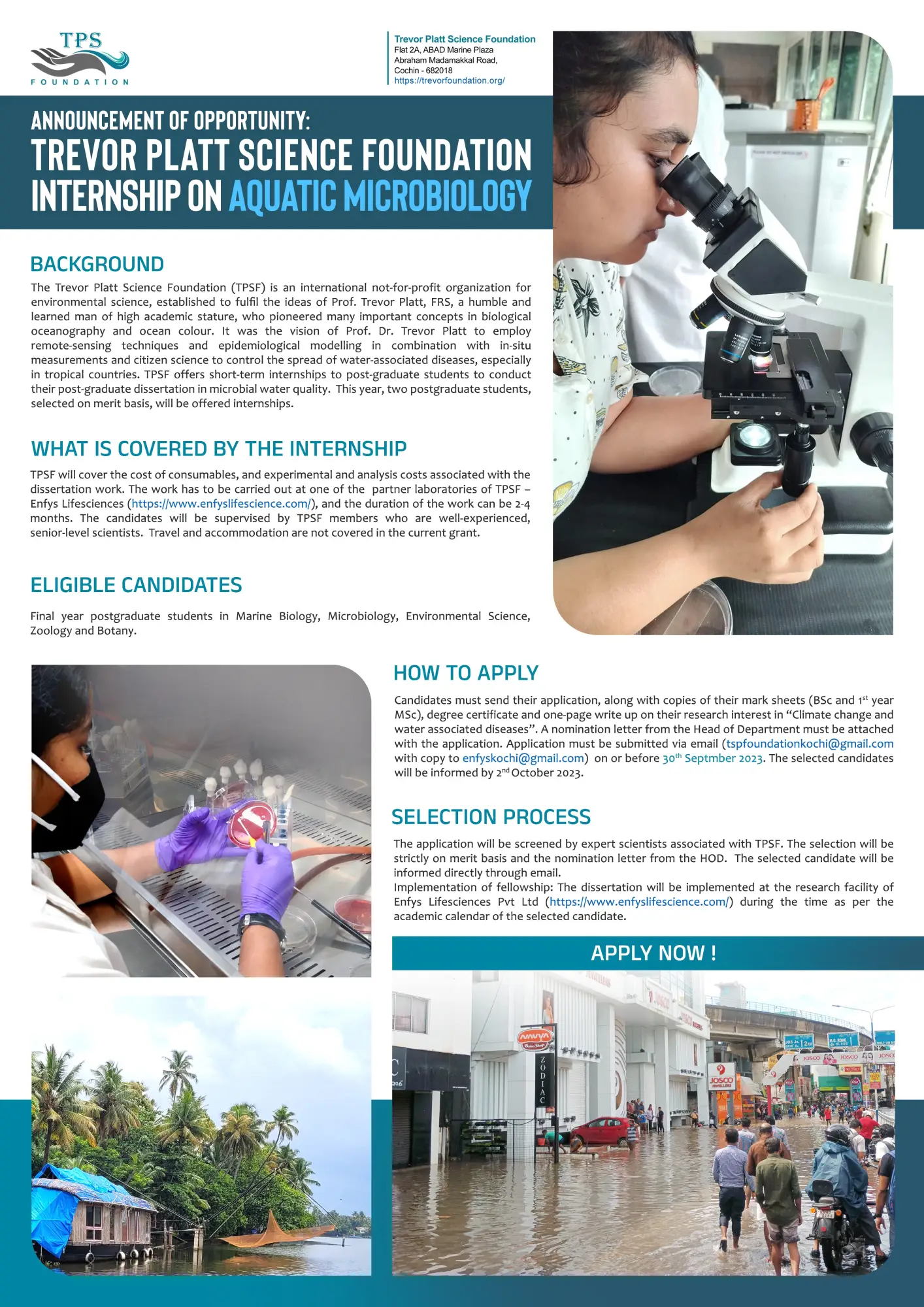 International SST User Symposium and GHRSST International Science Team Meeting (GHRSST24)
Opportunities | Posted on:

23 June

 

2023
The symposium will bring together SST experts with applied users and also feature a training event where attendees can learn more about how SST products are generated, and how to use different products for a variety of marine applications. Submissions from early career researchers and applied users of SST data are particularly encouraged. Funding support is available for those using Copernicus satellite data in their research.
Deadline for abstract submission: 7 July 2023.
More details can be found at https://www.ghrsst.org/ghrsst-news/24th-international-science-team-meeting-ahmedabad-india-ghrsst-xxiv-ghrsst24/
Date & Time: 16 – 20 October 2023,  Ahmedabad (India), Satellite Centre (Hybrid event)
ONWARD Webinar – Using spatial models to understand the epidemiological drivers of water-borne diseases, and to produce maps useful for disease control. Speaker: Prof Archie Clements, Deputy Vice-Chancellor Research and Innovation, University of Plymouth, UK. 
Opportunities | Posted on:

23 June 2023
Many major human pathogens interface with aquatic environments due to vectors, intermediate hosts or free-living stages requiring an aquatic habitat,  or water being a physical vector for the movement of organisms and their contact with humans. As a result, the risk of many infectious diseases is higher adjacent to water bodies or water contact points, both in inland and coastal locations. Examples of diseases dependent on the presence of aquatic environments include free-living bacteria, such as Leptospira spp. and Salmonella spp., fishand snail-borne parasites, such as Ophisthorchis viverrini and Schistosoma spp., and mosquito-borne parasites and viruses, such as malaria, dengue, and Japanese encephalitis. Knowledge about the relationships between proximity to aquatic habitats, the nature of local aquatic habitats and other features of the natural environment, and infectious disease risk, can be used as the basis for building models to spatially predict risk. Spatial predictions can be useful tools for public health decision-makers to prioritize the allocation of disease control resources to locations where they are most needed. This talk will cover several examples of spatial modelling of infectious diseases dependent on aquatic environments, and the extension of these models to build tools that can inform more efficient and cost-effective public health interventions.
Register at https://us02web.zoom.us/webinar/register/WN_wGMT78HuS-uNRNIw3P7OHg#/registration
Date & Time: Tuesday, 27 June 2023 14:00 UTC
ESA is recruiting for a Senior Climate Applications Scientist – Oceanography
Opportunities |
Posted on: 24 April 2023
This position is for a senior oceanographer, leading the oceanography portfolio of the Essential Climate Variable (ECV) projects in the ESA Climate Office, currently comprising sea state, sea level, sea surface temperature, ocean colour, sea surface salinity, sea level budget closure and ocean carbon. This portfolio will be further expanded over coming years, to include further ocean related ECVs, cross-ECV activities, Tipping Points and links to climate modelling. The position is located in ECSAT, Harwell, UK. The appointee will work to expand the awareness, use and scientific impact of satellite Earth Observation (EO) data records for applications in climate science and services, with a main focus on oceanography, but also for other domains of the Earth system. Ideally, the appointee would have significant research expertise in the field of oceanography, covering a wide range of scientific areas and applications over oceans and inland water bodies, and demonstrable skills in science management.
Deadline for application: 8 May 2023
Indian Scientific Expedition to the Arctic
Opportunities | Posted on: January 3, 2023
The Indian National Centre for Polar and Ocean Research (NCPOR) invites research proposals from national scientific organisations/institutions, research laboratories and universities with a sustained interest in polar research for funded access (comprising travel, DA as per the Government of India norms, polar clothing, boarding and lodging) to the Ny-Alesund Research Infrastructure in Svalbard, Norway.
Scientific research proposals for initiation during 2023-24 are invited, specifically within the following fields of Arctic research:
Atmospheric Science with special reference to the study of aerosols, trace gases and precipitation over the Arctic
Marine Science: Dynamics and functioning of Arctic fjords (Kongsfjorden)
Environmental Chemistry: Natural contaminants in food webs and long-range pollutants
Cryospheric studies: Snow and ice chemistry, glaciology
Terrestrial ecosystems of the Arctic
Application deadline: 28th January 2023.
Plymouth Marine Laboratory is launching a new fellowship in memory of Professor Trevor Platt FRS
Opportunities |
Posted on: November 28, 2022
Plymouth Marine Laboratory (PML) is launching a new fellowship in memory of our late friend and colleague Professor Trevor Platt FRS.
We are seeking applications from outstanding early career researchers to undertake a research project at PML in any aspect of biological oceanography (fieldwork, earth observations, theoretical, ocean stewardship etc..), following on the legacy of Trevor Platt.
The fellowship will provide a bursary of £15k to include travel, visa, accommodation and living expenses. The aim is to allow a visit of between four to six months depending on distance, living costs and science activity. It is expected the fellowship will start in summer 2023 (June/July).
Application deadline: 28th January 2023.
IPCC Scholarships
Opportunities |
Posted on: November 28, 2022
The scholarships will support post-graduate students from developing countries, for research that advances the understanding of the scientific basis of risk of human-induced climate change, its potential impacts, and options for adaptation and mitigation.
The scholarship provides a four-year fully-funded studentship which covers the course fee, and a tax-free stipend equal to the UKRI minimum stipend, which is £17,668 in 2022-23. There will be an increase each year. In addition there is a research and training support grant of £8000 to help cover the cost of lab consumables, fieldwork, training courses, travel and costs associated with conferences, etc.