Trevor Platt Science Foundation
TPSF is an international organisation dedicated to capacity building in science, research, and education related to our environment, especially our oceans, working towards stewardship of our planet for future generations.
Trevor Platt Science Foundation is a section 8 company (not for profit) registered in India.

Our Vision
The vision of the foundation is to uphold the legacy of Prof. Trevor Platt by striving for the betterment of our environment and our society and by equipping young scientists to take up leadership roles for stewardship of our planet.

Objectives
Create and sustain a forum for promoting science and societal applications of environmental sciences.
Conduct outreach programmes at schools, college and community levels.
Help in capacity building by conducting training programmes to students, offering fellowships and scholarships and travel grants.
Build collaborative networks with other organisations having similar activities and goals.
Actively seek and secure funding to carry out research and educational activities in environmental sciences.
Explore and implement ecosystem-based solutions to environmental problems and threats, especially of aquatic systems.
The foundation aims to achieve the objectives above with the help of its members. Let us all work together to make TPS Foundation a universal organisation.
Trevor Platt Science Foundation
Latest News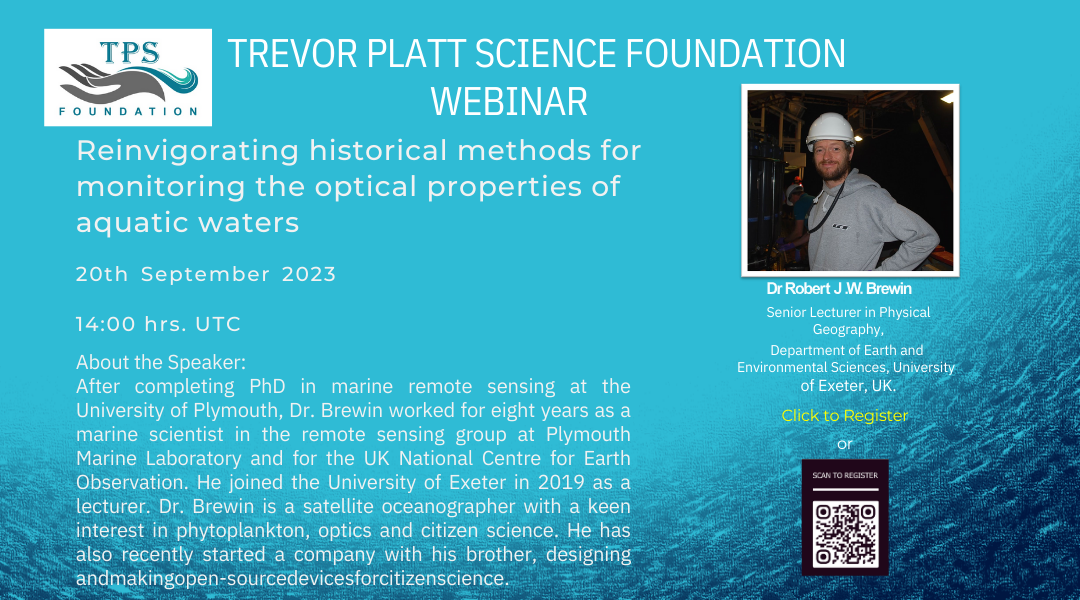 Trevor Platt Science Foundation (TPSF) is conducting our next webinar on 20th of September 2023, at 14:00 hrs UTC. Dr. Robert J. W. Brewin, Senior Lecturer in Physical...
read more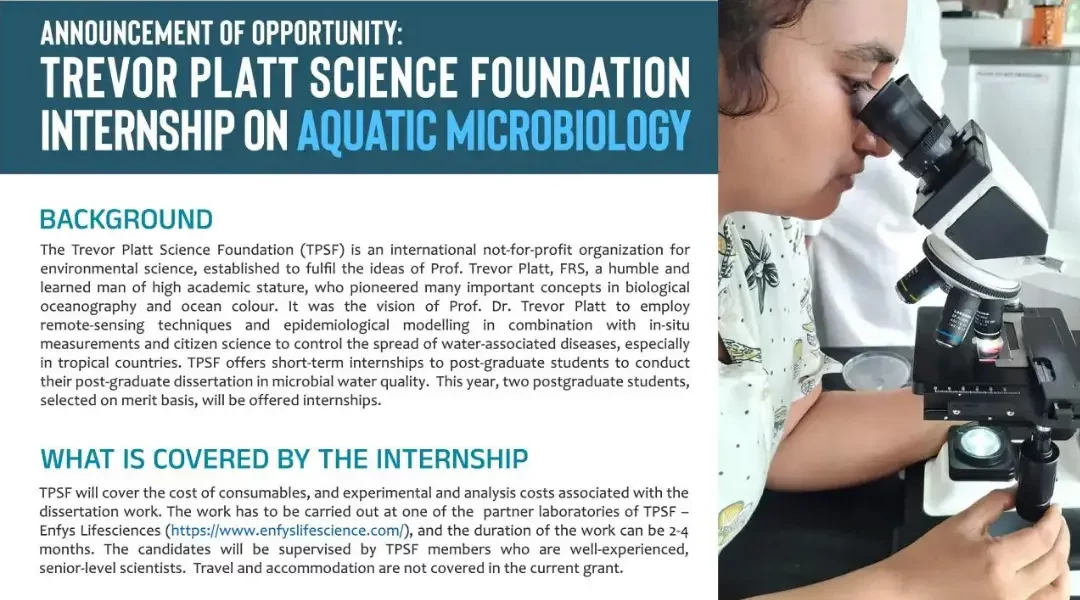 Implementation of fellowship: The dissertation will be implemented at the research facility of Enfys Lifesciences Pvt Ltd during the time as per the academic calendar of the selected candidate.
read more
Please apply to become a member if you have had previous connections with Trevor and Shubha (colleagues from work, friends or family), and wish to contribute to the activities of the foundation. Existing members can also nominate new members.